One designer, two editors, two volumes, 28 issues. Ranging from 64 to 80 pages, each Image+ issue was almost always designed within a week. I was in charge of collecting and organizing visual assets, designing every page, and preparing Image+ for press.
Pictured above are some of my favorite spreads from over the course of the 2 years Image+ was in print.
Despite the time crunch, I found constant inspiration in the content published by Image Comics. I worked closely with many of these creative teams to give their dream projects the spotlight they deserve. These magazine spreads were often the first glimpses of a new series retailers and consumers would get a chance to see.
All issues can be found on Image Comics' website. Text within each feature is available to read for free on www.imagecomics.com/features.
Bellesf
Independent art and sex positive magazine modeled after classic Playboy publications. I served as primary (and often only) designer on issues 1-5.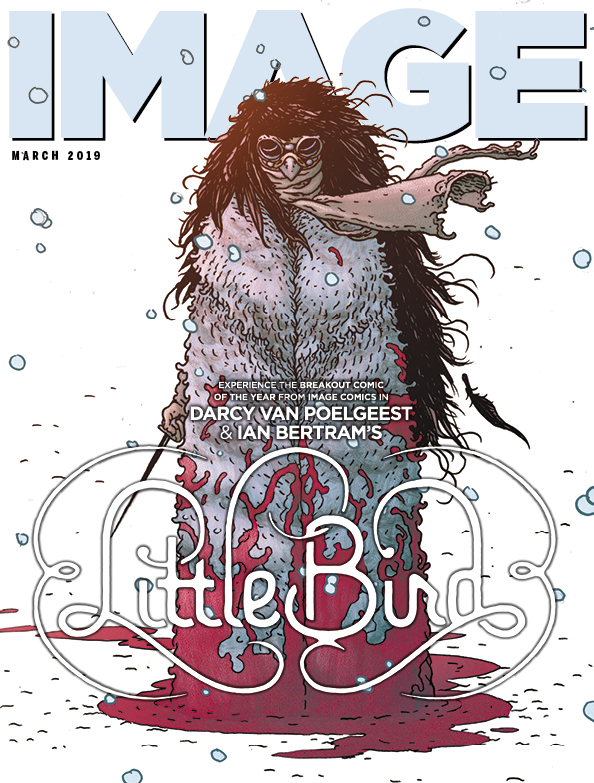 DIAMOND PREVIEWS CATALOG
Every month, comic book publishers distributed by Diamond Comic Distributors provide pages (containing solicit information) documenting upcoming releases. Diamond Previews is primarily a retailer facing product that is often purchased by consumers as well. I collect, organize, manage, design, and prepare the 50-60 Image Comics pages.
Pictured above are examples of the most recent design template produced.